*All scans shared here were from JCH StreetPan 400 on a Leica MP and Summilux-M 50mm ASPH scanned at a local developer. Being scans from films and my perspective as a reviewer, no retouching was done other than the usual cropping where necessary.
Introduction
The last I wrote about any analog film was easily 2 years ago, with my sharing of the 1910 Burke & James 8×10 large format film camera and, second last, the 135 format Kodak Ektachrome E100 film in 2019, and so today, I am going to continue on this enduring series with a short sharing of the JCH StreetPan 400 film (for 135 format)
The JCH StreetPan 400
JCH stands for Japan Camera Hunter. Bellamy Hunt is the owner and an extremely nice gentleman to converse with. Their IG, full of film cameras galore, is here.
StreetPan 400 is a pure black and white 135 format film that is repackaged from security camera emulsion, with the tell-tale sign "Made In Belgium" emblazoned on the box itself. However, this has no bearing because StreetPan 400 is an unique film.
From other reviews on this film, most photographers see the StreetPan 400 as for suited for street photographery hence I thought of going a different tangent and used the film for a portrait session instead.
The equipment used for this sharing was straightforward, a Leica MP with a Summilux-M 50mm ASPH, and the roll was exposed in daylight, though hardly bright and more of an overcast cloudy condition.
Technical stuff (I guess?)
Each roll comes with 36 exposures. As shared on its website, StreetPan 400 film's spectral sensitivity is extended in the near-infrared range of the energy spectrum, color sensitivity: panchromatic up to 750 nm is sensitive to near-infrared wavelengths up to 750nm, whereas human vision stops being useful just before 700nm.
As a result, StreetPan 400 has its application as a surveillance film due to its excellent penetration across haze and its strong response to red light, making it suitable for nocturne red flash photography. However, I surmise most of us will use it in daylight.
I was curious whether the StreetPan 400's near-IR responsiveness may also allow it to render skin tones beautifully, hence giving birth to the idea behind this article.
JCH StreetPan 400 can be processed as a low-contrast film for good and average weather photography and a medium-contrast film for bad weather photography.
How StreetPan 400 renders
First, I have a soft spot for deep dark blacks in my images, and this contrasty look is part of the JCH StreetPan 400's look.
Grain-wise, it is interesting that the grains seem primarily noticeable in the 'darker' areas, giving the overall image a more 'smooth' feel should there be more lit areas. The grain nature goes by an organic feel and, probably, complex, which I find quite pleasing.
StreetPan 400 resolves details very well, too, down to how Ms. Phun's fabric details on her jeans or even separate strands of hair can be observed, and again, this is something I prefer over mushy detailing and one of the strengths of StreetPan 400.
Note the roll was scanned run-of-the-mill at the local shop for the digtial scans here. I am pretty sure with better scanning equipment and parameters, the quality will be even better.
Of course, StreetPan 400 does well for general street photography beyond portraiture, with a few samples shown below.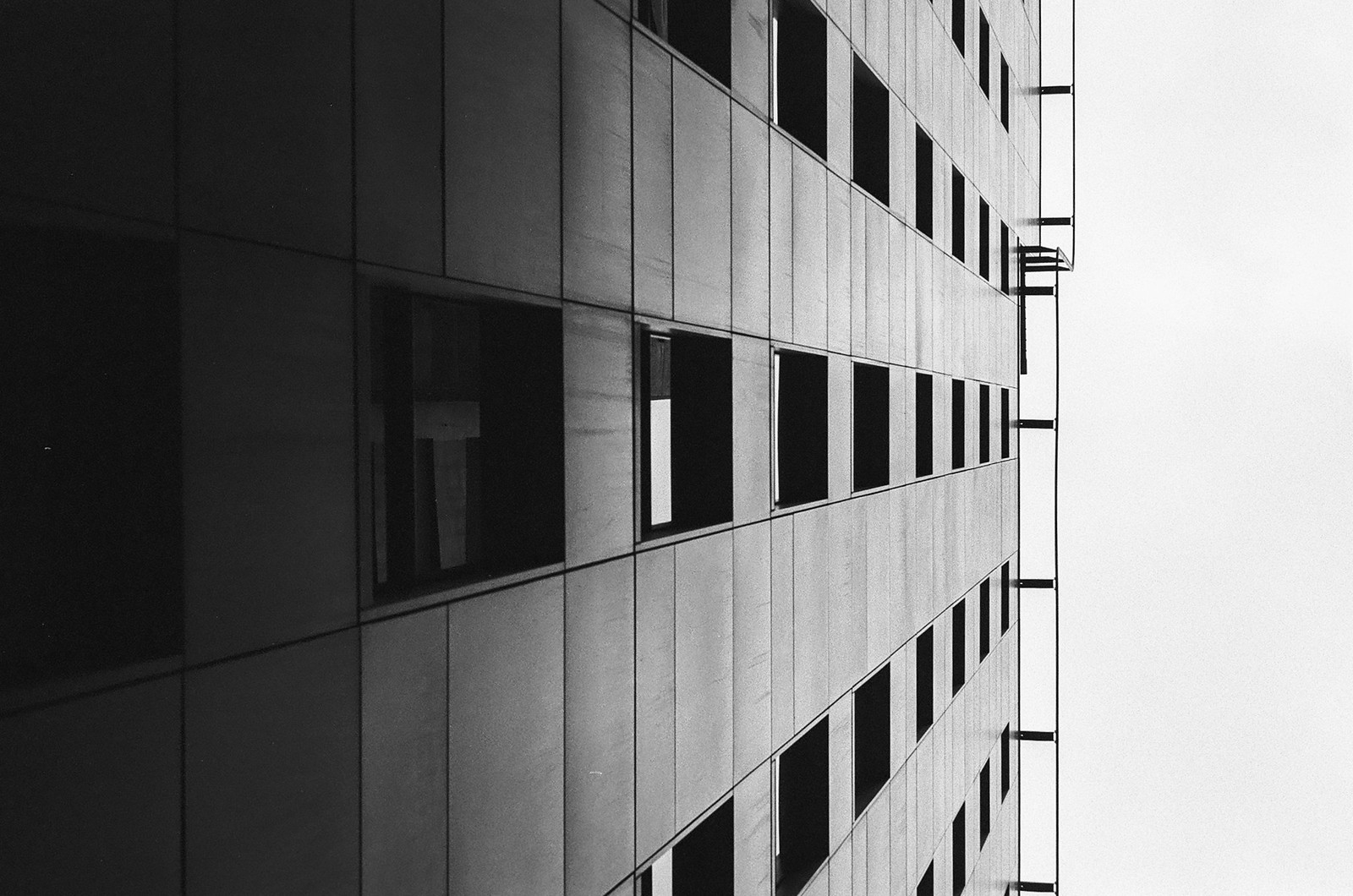 Being a black-and-white film, paying attention to the light and shadows before pressing the shutter button is essential. If you nail the shot, you will likely be glad to see the layers of shadows and light giving your image the character so many yearn for.
StreetPan 400 also provides a nice gritty feel to the shadow areas, and coupled with the deep blacks (if developed and scanned optimally), the film can give quite a punchy feel.
Lastly, most importantly (for me), StreetPan 400 works well for skin tones, and in this sense, I am pretty happy with using StreetPan 400 as a black and white alternative to Kodak Portra 400, whose prices have been rising at a crazy pace in the last few months.
Thank you for reading.
Disclaimers:
All product photos and samples here were photographed by me. I believe any reviewer with pride should produce their own product photos.
2. All images were shot with the Leica MP and the Summilux-M 50mm ASPH. The roll of film and development, scanning costs were borne by me.
3. This review is not sponsored.
4. I write as a passion and a hobby, and I appreciate that photography brands are kind enough to respect and work with me.
5. The best way to support me is to share the review, or you can always help support me by contributing to my fees to WordPress for the domain using the Paypal button at the bottom of the page.